today i'm in need of some positivity.
so i'm choosing to be thankful. and i'm linking up with
ryan
to do it!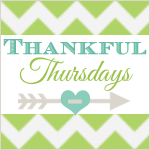 i'm thankful for god's provision
i'm thankful that when i am weak and defeated, god is strong and all powerful
i'm thankful for a hubby who loves the lord
i'm thankful that when i'm ready to give up, jesus gives me hope
i'm thankful for life lessons
alright, that's about all i can pull together for now. so glad the weekend is near!