this was a weekend that required lots of shopping!
i needed to get out of the house.
and so we checked out the mall for the first time since being here!
there were some great deals going on.
i've been wanting to try belts. apparently they're "in" or something like that. haha.
i've always stayed away from them because i was afraid they would accentuate a few non-flattering qualities of my waist line. however, when worn correctly, they actually make me look better!
i found this awesome 3-pack of skinny belts. um, yes please. i got a blue, silver, and snakeskin.
then i got an oversized wide brown belt that i can not wait to wear! come on fall!
i hit up the clearance racks for all the tanks. and we all know that i have plenty of cardigans to pair these up with. we could go black, yellow, blue, fuscia, green, coral. endless possibilities.
the blue cardigan was marked down too! yes!
and then after my post on all things gray the other day, i bought one of the shirts and 2 others online. i couldn't help myself.
Weekend Buys
by
lthomas0913
while in the mood for shopping, i also found myself in quite the mood for crafting.
i have a couple of birdcages that i want to hang in the colorful spare bedroom.
but they were boring and white.
so a trip to the home depot and some spray paint later, we have a teal and red bird cage.
and then there's our dining room table.
we found a guy in dallas that makes custom furniture for cheap. we gave him the dimensions and description for our dining table and that we wanted a farmhouse feel. he did a great job.
here's the original.
he was trying to be nice and added a couple of embellishments on the side - see the black decorative addition?
i spent about 2 weeks trying to convince myself that i liked them, but i just didn't.
it didn't match.
and my original vision for the table was a darker top. really a simple table.
so while at the home depot, we picked up some stain.
so i fixed that baby right up. the embellishments were just nailed on, so we were able to pop them off with no issues. and then of course i stained the top of the table. It dried a lot darker than this picture and it's perfect.
oh and check out the most perfect basket i found for the center piece.
i absolutely love it now!
i just have to figure out what to put in the basket.
i was thinking maybe apples? or some old mason jars with flowers in them?
help!!! what to do here?
And just for fun, I'm linking up to Sunday Social: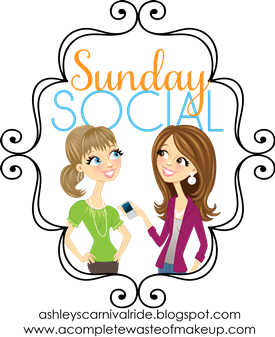 1. What is the first website you log on to each day? Facebook
2. Give us some funny websites you visit that we need to know about
3. Pinterest or Facebook? Why?
Oh I have a serious love affair with Pinterest. It's like everything I've ever dreamed of in one place! Ahhhh....heavenly.
4. Twitter or Instagram? Why? This is a toughy. I take pics with Instagram and link it to my twitter, so I use them almost equally. How to choose?
5. Favorite youtube video...post it!
This will forever be my most favorite - Grape Stomp.
6. Biggest online pet peeve?
I get really irritated with people's status updates that serve no purpose. Or people who have a new self-portrait every day. Really?